Since my university times I have a Honda Bol D'Or. Unfortunately I nearly don't have any time at all to use it for longer trips because most of it is spend for the work, house, garden, camper and if any is left for the family. So the "trips" are restricted to go for the local italian ice cafe. With respect to the calories I think it would be better to use the pedestal - isn't it???
Some more pictures of the Honda and / or trips will be added soon (I personally reject to call it a motorcycle because everything with less than 1000 cm³ is peanuts).
But I still fancy to drive motorcycle and a Harley would be my dream. In 2003 I took the chance whilst a busyness trip to allow myself the luxury of a daytrip around Las Vegas with nice fellas.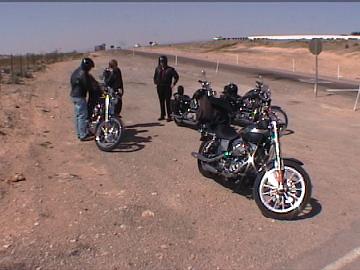 In January 2009 I have bought this one, a Suzuki Van Van or as well called RV 125. Main use will be to put it in the backside garage of our camper van for short trips or shopping tours. To lift it up one MUST was lightweight (here 125 kg).
As well the requirement was that my wife can drive it (old class 3 driving licence) which is given with the Suzi. But as well a very low seating position was a must-have because my wife is rather tall.
The next 2 years I suppose mainly our son will use it because he will make in summer 2009 the driving licence A1 and to change it 2 years later to the one without restrictions - up to then he can use this one. Later on she most like will have a relaxed time within Big Foot..